Peoria Newborn Photography: Tips for Images as Unique as your Baby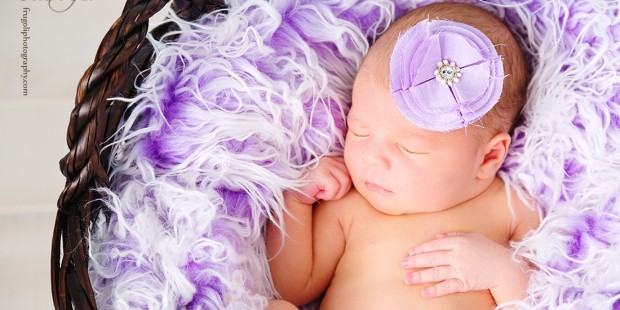 When it comes to your baby, let's face it, you want the best. You're in love even before giving birth!
They grow so fast, like lightning speed, and you want gorgeous images to treasure for generations. That is why, at Tracey Frugoli Fine Art & Photography, I obsess over every little detail. From safety, to posing, to props and accessories I want everything top notch.
If you are thinking about a session for your newborn, read on for ideas, tips, and an explanation of  how we go about capturing the most beautiful images of this magical time.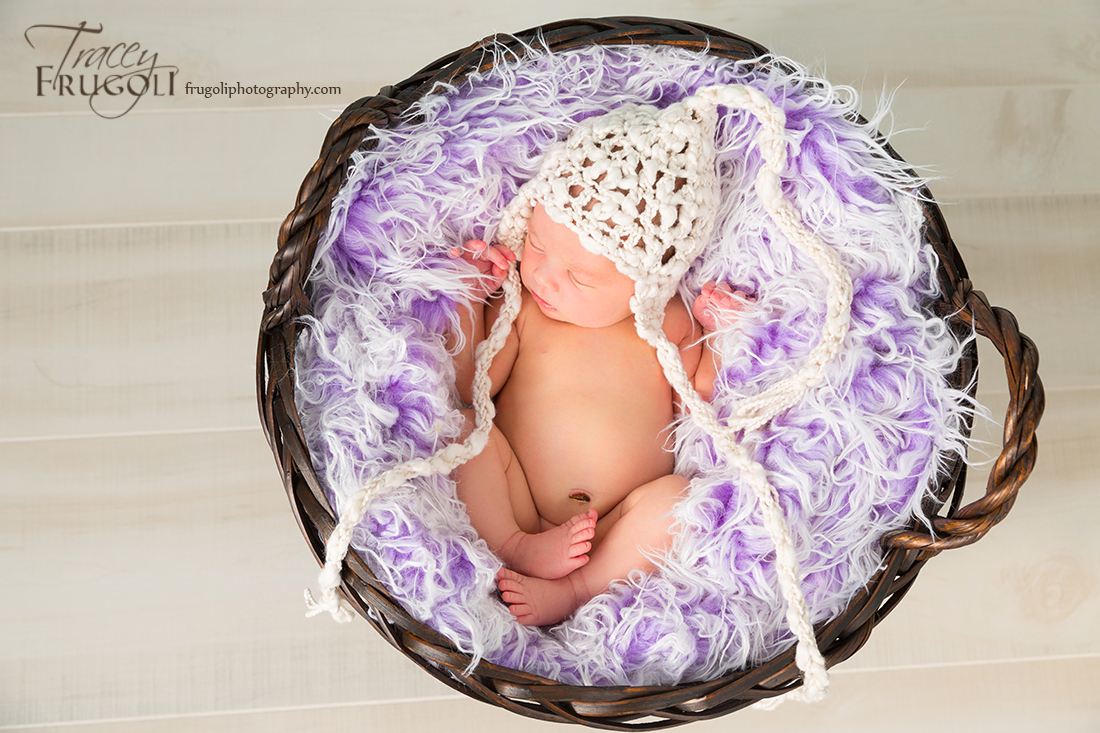 Safety First
There is an art and a science to newborn photography. That is why I set out to research and learn from photographers who have made their entire business about newborns and their families. My view is that, while clever poses and props might make great images, no image is worth the safety of a newborn baby (or any of my clients for that matter). We arrange poses for maximum safety and always have a spotter nearby in case baby should make a sudden move. Sometimes the spotter is my assistant and sometimes that is one of the parents. Knowing how to pose safely and where to place the spotter is very important.
Because newborn sessions are best between 6-14 days of age, avoiding unnecessary germs is important. If baby, parent, photographer or assistant is unwell, we reschedule the session. Whooping cough is making a come back, thus I have been immunized for this along with getting a flu shot yearly. In our studio, we are obsessive about clean hands and use hand sanitizer freely.
When searching for a newborn photographer, ask if they carry liability insurance. We carry insurance because we care about our clients, and we use safety practices so that we'll never need to use it.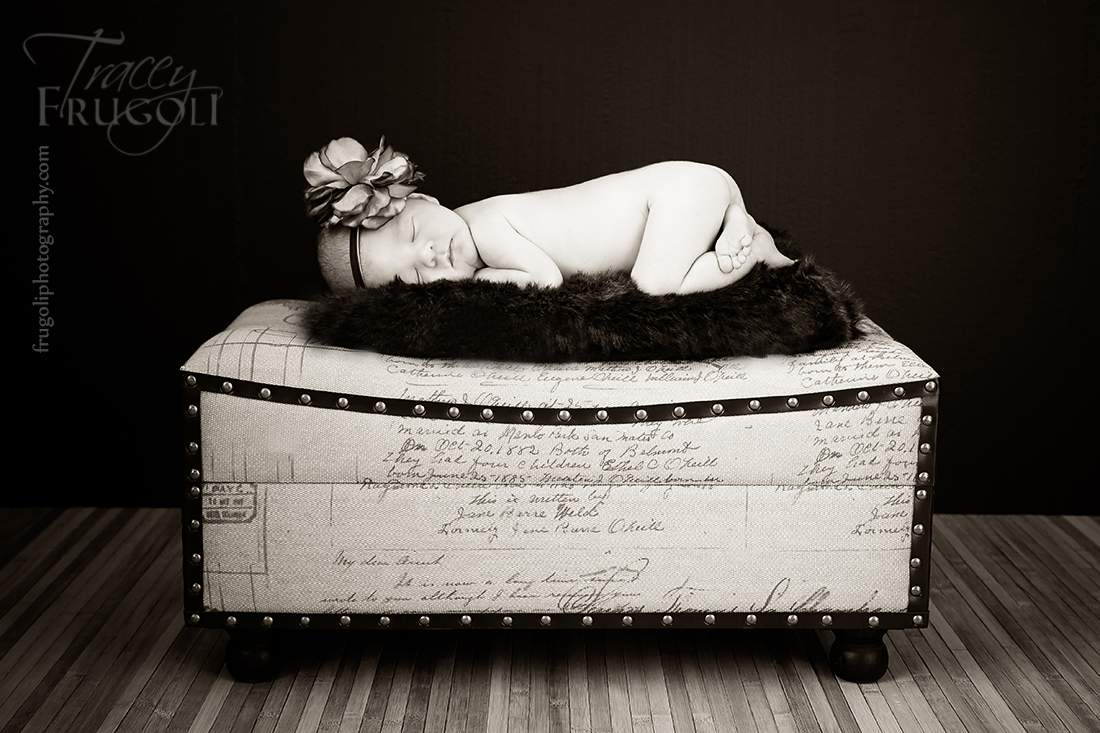 Posing
Posing a newborn is tricky. Don't try this at home. The reason why most newborn sessions occur in the 6-14 day old window is that newborns are more flexible to get into the poses and more likely to sleep through all that posing. A sleepy baby is the name of the game for newborn photography. They look so peaceful. Plus, they are safer in some of the poses. In fact, if the baby is not sleeping, there are some poses I will just not attempt. Awake-baby shots are great too, don't worry, those will happen.
You may come across some really cute poses on the web and want your photographer to replicate them. I always like to look at what you have in mind. Be aware, though, that not all babies are the same. Some may be more flexible, some less, some may not like their hands or arms in certain positions, and some may be happy let you do whatever you want.
A good newborn photographer will have a bag of tricks to keep baby happy and sleepy and be able to read when a pose is jut not going to work. Be aware too, that certain poses involve more risk than others. Listen to your photographer, when she tells you when a pose is either too risky for your baby or just not going to happen that particular day. Babies have good and bad days too:)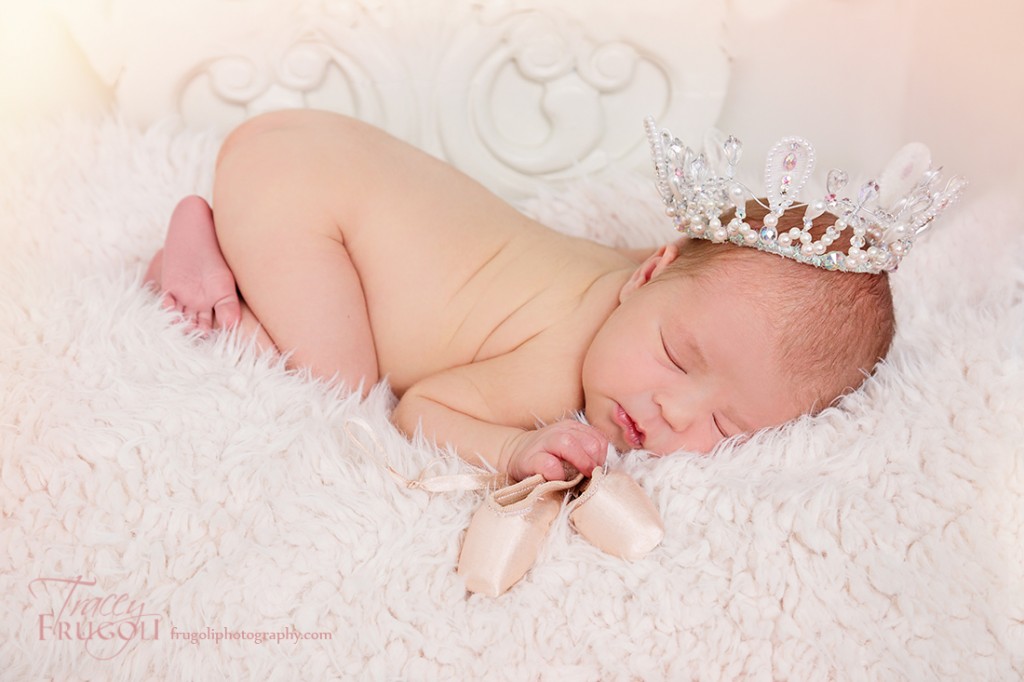 Props and Accessories
Now here is where individuality can really come out and, frankly, were my studio shines. If you've seen my costumes and accessories for women, it won't be any surprise that we have a multitude of blankets, fabrics, furs, wraps, props, and accessories to give just the right touch to your newborn's images. It all depends on who you are as parents and what you like. For example, the baby above with the ballet pointe shoes is the daughter of two ballet dancers and that is her mother's tiara she is wearing. Is your style modern, ornate, traditional, organic or a mixture?
Usually we will do poses on our special newborn posing bean bag with various texture blankets, wraps, and accessories and then move on to about three different props. Typical newborn props are sturdy, unbreakable, and visually clever or interesting such as bowls, baskets, boats, benches, nests, etc. We make sure to remove sharp edges and are careful to pad the prop so that baby's skin never touches it directly. We have various floors and backgrounds to bring visual interest and variety to the images too.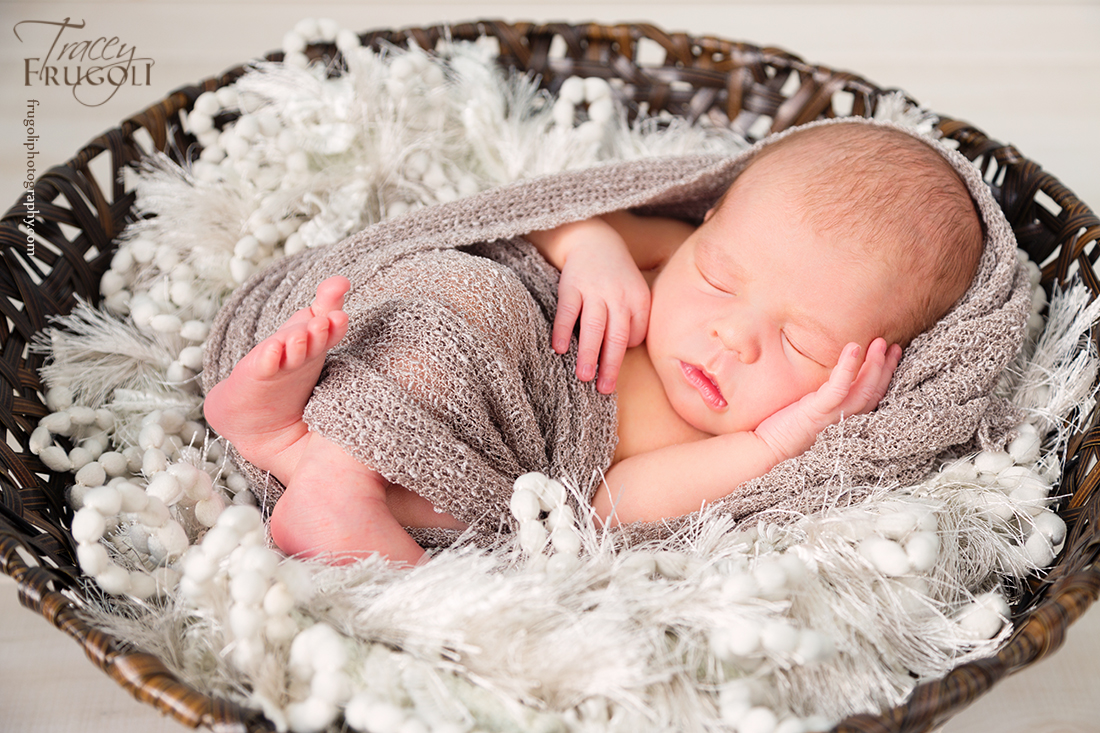 Baby with Family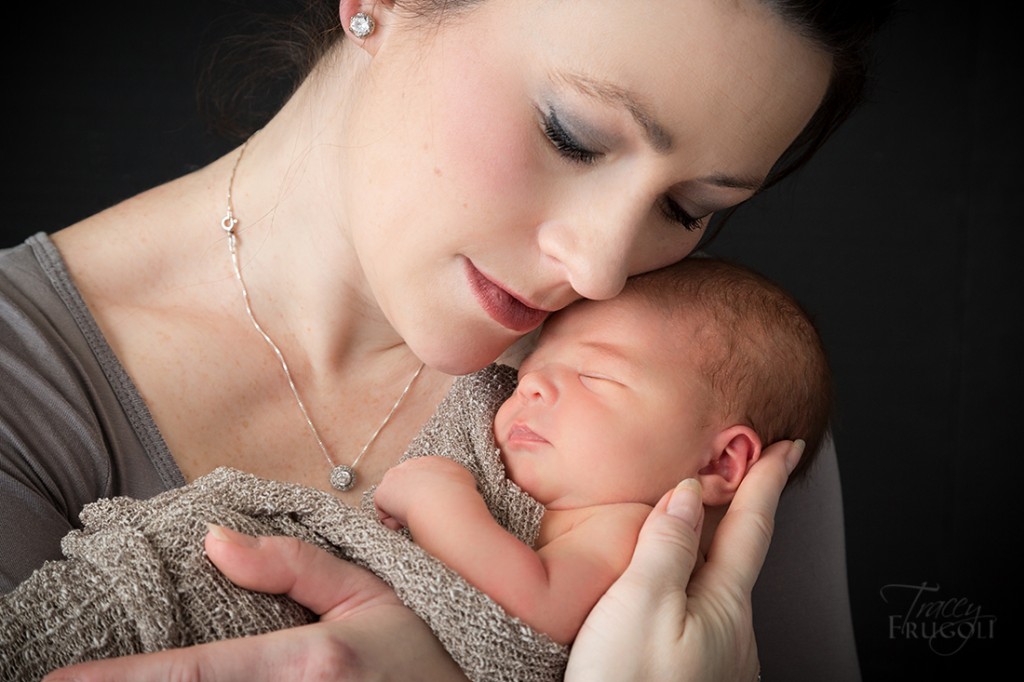 You might feel a bit bloated just after giving birth, but trust me, you will want beautiful images of yourself with baby. It won't matter to your child what you looked like, just that there are pictures of you together. And like all my photography, I give you great wardrobe and posing advice, and I know how to use lighting, camera lenses, and a little bit of the star treatment in Photoshop, so that the focus is on the beautiful moment between you and baby.
During your session, take in the moment. Something so simple as smelling your baby can bring forth beautiful images. One of of the best smells to a parent is that of their own baby. We will also do shots of the parents together with their baby and include other siblings as well. When we are shooting with younger children, sometimes the best shots are natural interactions rather than formally posed ones.
To bring unity to the images. it is a good idea to have family members wear coordinating clothes. Thinking of it in terms of color families can be helpful such as shades of gray, neutrals, gem tones, etc. Avoid patterns and logo shirts — they distract from faces. As a rule, most people look better in photographs wearing fitted clothing (not necessarily skin tight, just fitted to show some form).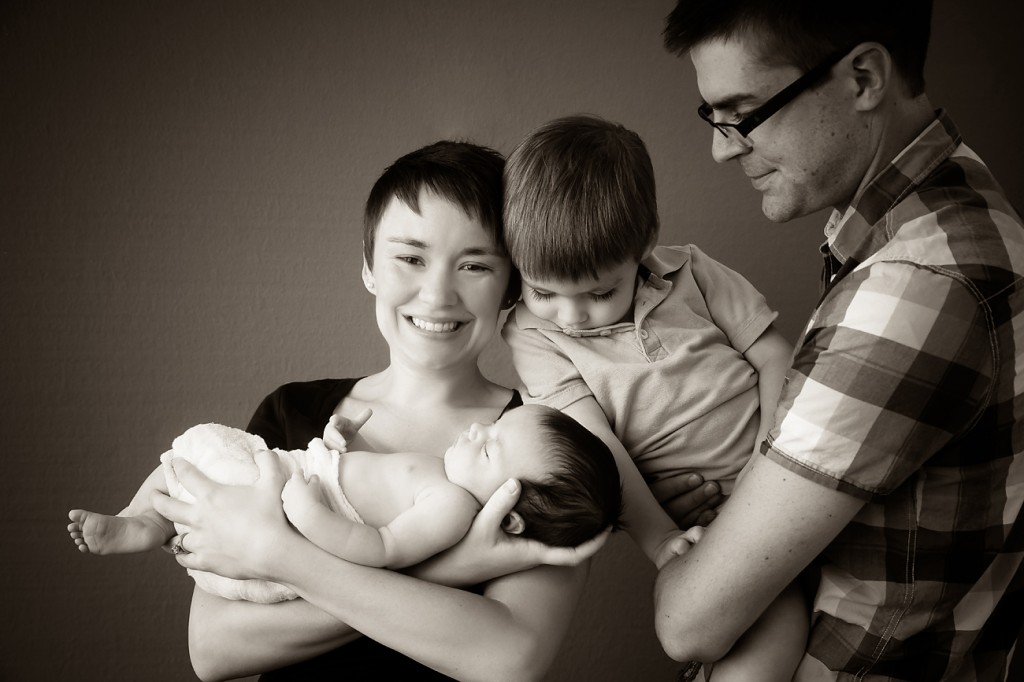 Enjoying the Session
It is so rewarding to see your new baby in cute poses/props or with a sibling and we want you to enjoy the moment. Don't stress over not getting your kids to do just what you want or your baby in a certain prop. If you communicated with and have faith in your photographer, you know the images will be beautiful anyway!
We know, new parents are tired! Although we want to get great shots and send you on your way as soon as possible, a newborn session can run between 2-4 hours. That all depends on how sleepy we can keep baby and how much soothing baby needs between poses. I am a patient person and we have some tricks to keep baby sleepy. One of those is to ask the parents to keep baby awake for the 4 hours leading up to the session.
Another trick is to keep the temp in the studio 80 degrees. Newborns cannot regulate their own body heat so having it that hot can really help to keep them happy and sleepy. Even though the heat doesn't seem to effect me, it can be hard on the parents. So I recommend you take breaks often. The heartbeat monitor we use to sooth baby often has the same effect on parents, so it can be a pretty relaxing environment. Most of the time, the session seems to fly by.
Planning ahead with your photographer is a great way to save time come shooting day. The best time to book your session is while you are pregnant. Talk to her about what your personal style is, what you would like out of the session, and how you might like to use the images. For instance, would you like to have a collection of canvases in the baby nursery? Then knowing the style and colors of the room is a must for the photographer.
As an artist, you will get the most out of my creative abilities if you let me in on these little details. Although you have access to my whole collection. The advance notice lets me have the colors and props out that I think you might most be interested in and have a plan in my mind of what background and floor would suit the best.
Bring all the supplies you think you will need, not just for baby, but for yourselves! While I always have a supply of snacks and drinks for you, you will want to bring what will keep your energy up during the session. Some suggestions for things to bring:
Baby Supplies
Snacks, drinks, even a sandwich if appropriate
Pain, allergy, and other just-in-case medication for you
A few changes of clothes — naked babies have accidents:)
Favorite toys to make siblings feel at home and get their attention for the camera
Don't feel bad if your baby is fussy or ends up soiling the blankets or other props. We expect this, and we wash everything with which your baby comes into contact anyway. It is part of the territory and we love what we do!
Just as a newborn session can feel long for tired parents, think how long it can feel for young siblings. I always recommend having a trusted adult come to take the sibling(s) off to do something fun after the family shots are done and we are ready to start posing baby alone. You will thank me.
Baby skin is soft, but far from perfect. While a skilled retoucher with Photoshop can be awesome at stripping away imperfections, you want your photographer to start with the best skin possible. The results will end up being more natural looking. Dry skin can be difficult to retouch, so baby lotion is your friend:)  Here is a tip I have learned from experience: if baby's nails are long enough to scratch her own face, clip them with the appropriate clippers ahead of time.
Whether you decide to book with me or another photographer, I hope this helps you in planning to get the most out of your newborn session. Post below or contact me directly with questions.
Artistically,