Archetypal Women: Elizabeth I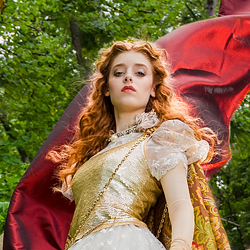 "Elizabeth I," 30 x 10 x 1″ photograph on float mounted aluminum.
Part of my "Archetypal Women" series exploring depictions of strong women, Elizabeth I  was queen regnant of England and Ireland from 17 November 1558 until her death in 1603. She was a savvy politian and bright mind with a fiery temper.
Despite pressure, she refused to marry her many suitors. Possibly because, for one, she was not able to marry the man she loved and, two, she knew this was the only way to keep her power and possibly her head.  She also refused to name her successor, probably for the same reason. Her long reign is often called the golden age.
I have loosely chosen to represent her at the moment she is visiting her troops ahead of the expected invasion of the Spanish Armada (which was thwarted at sea).  Unaware of the Armada's fate, English militias mustered to defend the country under the Earl of Leicester's command. He invited Elizabeth to inspect her troops at Tilbury in Essex on 8 August 1588. Wearing a silver breastplate over a white velvet dress, she addressed them in one of her most famous speeches:
My loving people, we have been persuaded by some that are careful of our safety, to take heed how we commit ourself to armed multitudes for fear of treachery; but I assure you, I do not desire to live to distrust my faithful and loving people … I know I have the body but of a weak and feeble woman, but I have the heart and stomach of a king, and of a King of England too, and think foul scorn that Parma or Spain, or any Prince of Europe should dare to invade the borders of my realm.
History's perception of Elizabeth went through permutations that suited the needs of the culture at the time. My depiction of her is part historical, part symbolic, part contemporary, and most assuredly personal to what suits my needs.
As a woman in a contemporary society that, despite great strides, in many factions, still finds the idea of a woman President questionable, I choose to portray a strong and capable leader. Ask yourself, when you think Leader-of-the-Free-World, do you picture a woman? Whatever you think of Hillary Clinton, why is she the only viable candidate right now? Why do we not have more of a pool?
Why, in conversations with artists, do I still hear that there are no great women artists? Yes, that really happens.  My answer is perception. With this series I choose to start perceiving in a different way.
How we did it
Above: Working out the costuming for "Elizabeth I". From my extensive costume collection, we devised several clever schemes to give the impression we were after. Interesting fact: the fitted part of the sleeves are actually two layers of stockings. The metallic lace ruffle at the shoulders and neck are two vintage scarves strategically gathered.
I think of it as theatre.
Above: Photo shoot in the field for "Elizabeth I." Photographic equipment: Canon 5D Mark III with a Canon EF 24-105mm f/4L Image Stabilized Lens, Speedlite 600EX-RT in 24×24″ softbox for fill and Speedlite 600EX-RT  with dome diffusor on the stairs below and to her left (you can see it catching on the right side of the fabric in the finished shot). The photo I ended up choosing for the final image was taken on the stairs you see in the background of the photo below.
Above: Here you can see what we did to make her cape float as if caught by a sudden epic coastal wind. In addition to a fan for her hair, my hardworking assistant and birth mom, Renee, had to repeatedly toss the fabric in the air. I would later Photoshop Renee, and other distractions, out. While I think the final image would make a fantastic painting, time did not permit it before my solo show opening at Pearce Gallery.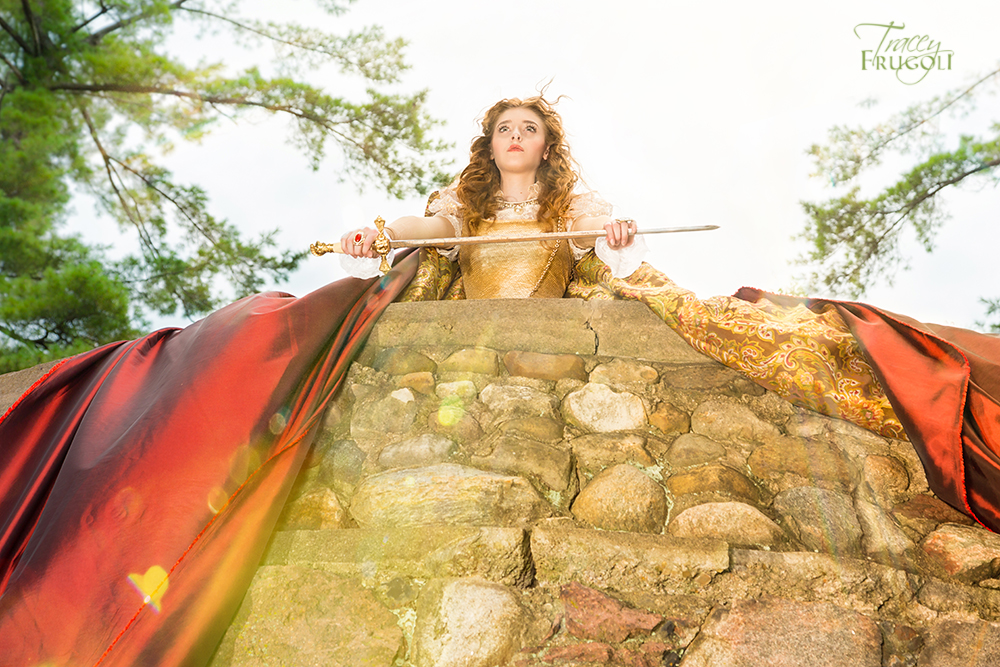 Above: An alternate image for Elizabeth I. Thank you to model: Kels Roth.